Welcome to ULYSSES CLUB GB
The international social club for mature bikers

We have Ulysses Club GB members based around the country.

We keep in regular contact through our active website and our member-only Facebook group.
We organise regular single-day ride-outs and meetings for a cuppa, fry-up or lunch throughout the year.
We arrange weekend ride-outs, sometimes as charity events, in different parts of the country.
We run a number of extended tours in the British Isles each year.
We regularly travel abroad on group rides – often to meet with our Ulysses friends from other countries' clubs.
We meet up with visiting members from other countries – e.g. from Australia, New Zealand, Germany, France, Norway, and the USA.
Membership is open to all those over 40 years of age with an interest in motorcycling. If you are interested in joining us check the Membership section for further details.
Our aims are:
To provide ways in which older riders can get together for companionship and mutual support.
To show by example that motorcycling can be an enjoyable and practical activity for riders of all ages.

To draw the attention of public and private institutions to the needs and views of older riders.

To foster relations with Ulysses members internationally.
Besides our more adventurous tours and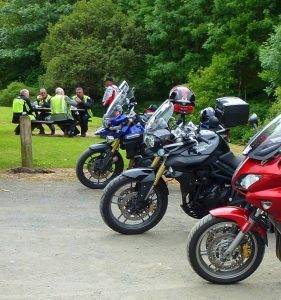 events there are regular opportunities for members to meet up. A couple of fixed points for lunch times are the second Wednesday of each month for the North Midlands / Peak District and the fourth Wednesday of each month in the South Midlands (various venues). There are also regular meetings for members in the North West. These meets are very popular and provide the opportunity to keep in touch with friends, make new ones, and plan for future exploits together. Our Gallery will give you a flavour of our activities over the last couple of years and the Rides & Events link offers a few anecdotal tales of some of our adventures both here and on the continent with our fellow Ulysseans from across the Channel. Also on that page is a table of forthcoming activities.
We look forward to hearing from you!